Did you know you can use all swipe gestures on your Infinix phone instead of the navigation keys?
The latest version of Infinix operating system, XOS 6.0, comes with a lot of great new features. Gesture navigation — which uses swipes and other actions to control your phone, rather than tapping on buttons —XOS6.0 has put the final touches to its gesture controls.
One of the major changes that differentiate XOS 6.0 from XOS 5.5 is in the field of gesture-based navigation. 3-button navigation is the traditional navigation system, with a back, Home, and switch apps button at the bottom of the screen. So it's time to ditch throw your 3 Buttons navigation out of the screen. XOS6.0's gesture navigation are here, and we're going to show you how to use them — or how to turn them off.
Gesture navigation, which uses swipes and taps instead of the three buttons you might be used to for getting around your phone.
For example, you can swipe up from the bottom of the screen to go back to the home screen, or a quick swipe across the bottom of the screen will switch back to the last app you used. Once you get used to the new gestures, you'll be navigating your phone with ease.
Infinix S5 pro comes with Android 10 and gesture navigation enabled by default, but — for now, at least — gesture navigation is optional. You'll need to turn it on if you want to swipe your way around your phone. So if you've decided to try out the new gesture navigation method, but all of your familiar buttons have disappeared, and you have no idea how to control your phone anymore. Don't worry, we've collated all the useful gestures you need to know.
Below we cover how to enable gesture navigation, and walk you through each gesture:
If you want to test out the new navigation gesture, just head to setting and tap system navigation, then activate gesture navigation.
Your screen will flash, and a few seconds later the buttons that were just present along the bottom of your screen will be gone. In their place will be a single white line.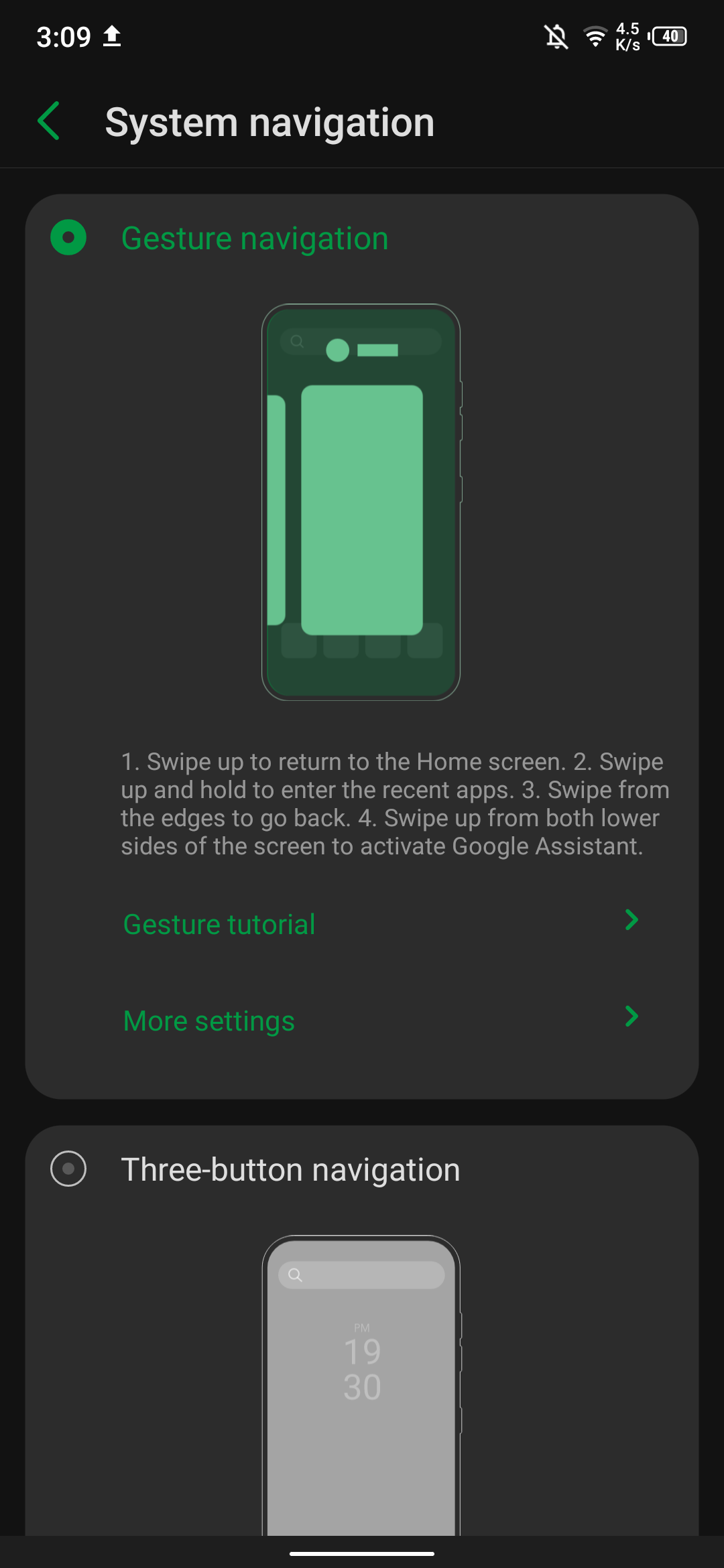 How to get to the home screen?
A quick swipe up from the bottom of your phone's screen will take you back to your home screen.
To view all open apps, you swipe up from the bottom of the screen but pause about a third of the way up the screen.
You can quickly switch between apps by swiping right over the small line at the bottom of the screen. After you start scrolling through open apps, you can swipe to the left in the same area to go back and forth between apps.
Accessing the app drawer is simple. From the home screen, just swipe up. It's the same gesture you use to get back to the home screen from inside an app.
To activate google assistant, swipe up from both lower sides of the screen
To go back, swipe from the left or right edge of the screen. It's a quick gesture, and you'll know when you did it right because an arrow shows up on the screen.
Force-close apps
This hasn't changed, but it's worth mentioning again. When in multitasking view, swipe up on an app's card — pushing it off the top of the screen — to close out the app.
Why gestures navigation?
        Gestures can be a faster, more natural and ergonomic way to navigate your phone
        Gestures are more intentional than software buttons that you might trigger just by grabbing your phone
        Gestures enable a more immersive experience for apps by minimizing how much the system draws over app content. HOME/BACK buttons and the bar they sit on – especially as hardware trends towards bigger screens and smaller bezels.Looks like you have blocked notifications!